Roll over image to zoom in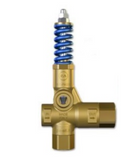 Description
Unloader valves come in a variety of sizes - please call the office if you don't see the size you're looking for.
Dynamic seals made up of O-ring and Back-up ring. Optimized internal passages that guarantee reduced pressure loss. Antirotation device of the piston positioned inside the valve and obtained by an hexagonal sector of the piston itself. O-rings of the fittings positioned upstream to the thread : no risk of fittings ejected in case of overpressure. Double feed connection. Version with knob fitted with locknut for minimum working pressure adjustment.
Payment & Security
Your payment information is processed securely. We do not store credit card details nor have access to your credit card information.