Roll over image to zoom in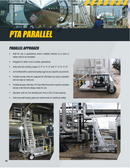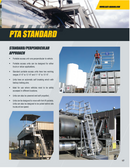 Description
A detailed quote will be provided upon dimensions and specifications of required gangway. Call 905-564-4673 or email info@faultlesssolutions.com to receive your quote.
When it comes to mobile loading, Safe Harbor's PTA platforms are the ideal solution for fall protection. In a temporary loading situation where there is a lot of movement, portable access platforms give the strength, durability, and safety that all of our permanent platforms offer. A few things to consider are:
Do your loading areas provide adequate fall protection for your operators at all times?
Do you have a need to be able to unload a tanker, truck, or railcar in a remote area that currently does not have a loading rack?
What happens if your typical loading spot is not operational and you can't load or unload product due to damaged fall protection equipment?
If any of these scenarios apply to your company then Safe Harbor has the solution. Safe Harbor's Portable Access System provides fall protection for your operators on a portable platform. The Safe Harbor Portable Access System is engineered for use with Liquid Tanker Trucks, Liquid Rail Cars, Hopper Trucks, Hopper Cars, and ISO-Tainers.
Safe Harbor Portable Access Systems - Engineering Review
Safe Harbor offers two different rolling bases and ladder heights. Choose between our standard base which offers loading capabilities for single hatch vehicles or our parallel base, for vehicles with multiple hatches.
Available in both parallel and perpendicular models.  Prices do not include safety cages.
Pricing reflects standard unit without adders or options.
FREIGHT NOT INCLUDED
Call the office at 905-564-4673 or email us at info@faultlesssolutions.com for a full quote.  Please provide as much detail and measurements as possible to ensure accurate quoting.
Payment & Security
Your payment information is processed securely. We do not store credit card details nor have access to your credit card information.