Roll over image to zoom in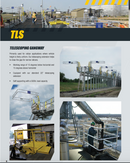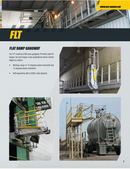 Description
A detailed quote will be provided upon dimensions and specifications of required gangway. Call 905-564-4673 or email info@faultlesssolutions.com to receive your quote.
A gangway is a platform or walkway that is engineered to provide safe access between a tower or platform and a truck, boat, railcar or another type of platform. Safe Harbor's OSHA-certified access gangways are designed for a wide range of heights and variances. Gangways can be retrofitted to your existing structure and customized to suit your specific application; which is excellent for older platforms that were not designed for today's taller railcars. 

Loading Gangway Features
Lifting of manual units assisted by feather light spring counter-balance
Built for harsh and high use environments
Locks automatically in upright position with a positive foot lock mechanism
Rugged quality bumpers on the bottom of unit for vehicle protection
Variety of standard widths from 20" to 60" available
500 lbs. load capacity to accommodate potential emergency rescue efforts
Pipe handrails standard to provide a more secure environment for truck and barge operators
Stainless steel hardware and bronze oil impregnated bushings are provided for all pivot points to ensure long lasting performance

Designed to meet 

OSHA standards
Industries That Utilize Access Gangways
Safe Harbor creates gangways for the following industries:
Marine Gangways
Barge Gangways
Pharmaceutical / Pharma Gangways
Trucking/tanker Gangways
Food Processing Gangways
Mining Gangways
Chemical / Petrochem Gangways
Materials Offered for Gangways
Safe Harbor can custom fabricate truck and railcar gangways in various materials, such as:
Aluminum Gangways
Stainless Steel Gangways
Galvanized Steel Gangways
Aluminum Truck Gangways
 For loading gangways in industrial and commercial marine settings, Safe Harbor recommends the use of marine-grade aluminum. Several benefits of aluminum truck access gangways include:
Lightweight & durability
Lower maintenance requirements
Ideal for loading, unloading, and inspecting & repairing vessels
Excellent corrosion resistance
What Are the Different Types of Gangways?
Telescoping Gangways - A loading gangway with a 

telescoping extension

Flat Ramp Gangways - A loading gangways with non-slip ramp
Self Leveling Tread Gangways - A loading gangway designed for varying heights
Custom Gangways - A loading gangway designed to your specific needs
Available in Aluminum and Galvanized Steel. 
Price will depend on centreline and gangway width (24" or 36")
Call the office at 905-564-4673 or email us at info@faultlesssolutions.com for a quote.  Please provide as much detail as possible to ensure accurate quoting.
Payment & Security
Your payment information is processed securely. We do not store credit card details nor have access to your credit card information.