Roll over image to zoom in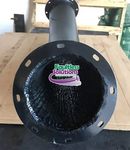 Description
These innovative fittings are a brand new introduction to the hydrovac market.
First fittings to feature a carbide infused inner lining that substantially improves durability and lifespan.
-Carbide lined fittings are projected to last 4x longer than even the most reinforced heavy duty fittings before needing to be replaced.
-With enhanced durability your operation can continue longer with less downtime.
-Less downtime means you can spend less time replacing parts & consumables.

- Virtually eliminates routine maintenance as elbows are replaced every 3-4 years as opposed to annually.
Payment & Security
Your payment information is processed securely. We do not store credit card details nor have access to your credit card information.