Roll over image to zoom in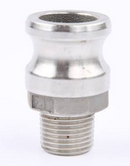 Description
Male Camlock x Male NPT
Available in all sizes. 
TYPE F ALUMINUM CAMLOCK ADAPTER - MALE ADAPTER × MALE NPT
Aluminum Type F adapters are normally used with Type B, C, D or DC couplers with the same size. Aluminum camlock fittings have good abrasion resistance and fair corrosion and chemical resistance. These quick hose couplings are often used in suction hoses, industries hoses carrying water, hydraulic fluids, coolants, gasoline and petroleum products.
Aluminum camlock adapter type F.
Type F adapter comes into size from 1/2" through 8". 1/2" through 4" and 6" parts are interchangeable, while 5" and 8" through 12" are not interchangeable for no standards are established for these specifications. Handles, rings are available in stainless steel or brass and gaskets can be PTFE, Viton, EPDM or as required. Standard thread is NPT, BSPP & BSPT is workable.
Applications:
Water suction/discharge hoses;
Petroleum delivery/suction hoses;
Industry hoses;
Milling hoses.
Features:
Lightweight yet high tensile strength;
Economical cost and durable;
Abrasion resistance;
Suitable for carrying water, hydraulic oils and petroleum products.
No tools are needed.
Payment & Security
Your payment information is processed securely. We do not store credit card details nor have access to your credit card information.